What do we do
CoyoteLearner STEM Academy is an academy that is engaged in the production of high-quality educational resources and curiculum. It is addressed to parents, in order to obtain these resources for their children, as well as to all types of educational institutions and entities that can distribute these resources to their students.
Our Mission
Our mission is to provide schools, teachers, and students with quality and entertaining educational tools to help cultivate students' computational thinking and develop their synthetic and analytical capabilities.
Why; What Problem Are We Trying to Solve?
STEM (Science, Technology, Engineering, and Mathematics) education is important because it pervades every part of our lives. Science is everywhere in the world around us. The technology is constantly expanding into every aspect of our lives. Engineering, in addition to its manufacturing dimension, also faces the challenges of the actions people have to make to deal with environmental change. Mathematics is in every activity we do in our lives.
According to U.S National Science Foundation, in the 21st century, scientific and technological innovations have become increasingly important as we face the benefits and challenges of both globalization and a knowledge-based economy. To succeed in this new information-based and highly technological society, students need to develop their capabilities in STEM to levels much beyond what was considered acceptable in the past.
Also please note that Statistics tell us there are currently more than a million job vacancies in the STEM industry, while at the same time only 16% of college students graduate in STEM fields or subjects.
Demand for STEM jobs increased three times between 2000 and 2010, and continues to grow, with many new fields and professions emerging each day. With advances in artificial intelligence, millions of jobs are now vacant.
So clearly, STEM is the key to the careers of the future and it needs many more participants.
Our Team
The production of educational resources has been made by the CoyoteLearner STEM Academys' team. The CoyoteLearner STEM Academys' team is made up of people with a particular love for children, education, and new technologies, with significant and multiannual experience both in education at all levels and in the management of educational programs.
Maria Kyriakou
Philologist, Lawyer.
Special love for technology, education and children
Ioannis Dourvas
Creator of Educational Material.
Computer Engineer, Great Teaching Experience, 2 Master Degrees, Writing Work.
Serafim Iakovidis
Creator of Educational Material
Science Degree, Teaching Experience, Master Degree, Research Programs.
What makes us different
The special feature of the educational resources distributed by CoyoteLearner STEM Academy is the incorporation of cartoons and animations. In this way, an excellent result is achieved that is absolutely oriented to the needs and demands of the students to whom it is addressed, making the learning process very pleasant.
Of course, besides cartoon movies, the educational material we create includes: Complete curricula, Instructor books with suggestions on how to use the other sources, Crosswords, Educational games, Projects, Presentations, Exercises – Solutions, Questionnaires
Our first video:
Why e-courses?
The global e-learning market was valued at $ 107 billion in 2015. The forecast for 2025 is threefold at 325 billion. Only in 2017 the market for e-courses is valued at $ 46 billion.
Video Views Today
According to researches, the average person, in 2017, spent 56 minutes of watching video. The corresponding figure for 2018 is estimated at 67 minutes! The corresponding forecast for 2020 is 87 minutes a day!
Our Learning Platform
We created an online platform (LMS) that hosts our e-courses that offers many features and services to both the learner, as well as useful tools to the teacher.
A Student may…
– Earn Points When an Educational Activity Ends
– Climb Levels Of Difficulty by earning more points
– Participate in Ranking Points Tables
– Get Certificates of Completion
– Make New Internet Friends
– Communicate With Friends Through The Platform
– Join and/or Create Groups
A Teacher May..
– Enroll Students to the Courses
– Set the date availability of the course's sections for his/her students
– Keep an eye on students' progress through Charts and tables
– Start Private Text conversations and file exchanges with his/her students
– Send Bulk Messages to her/his students
Why BBC Micro:bit?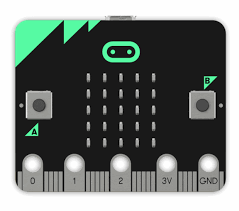 A small, wearable piece of tech that can be programmed to do a number of nifty things.
After thorough research, we chose to embed to our courses educational activities and exercises with BBC Micro:bit.
Much like a tiny, pocket-sized computer, the BBC micro:bit encourages kids to learn basic coding and programming skills to prepare them for today's tech-savvy world.
Students can use micro:bit to build a wide range of tools like gaming consoles, fitness trackers, wearables, autonomous vehicles, soil moisture and temperature sensors.
In the process of programming a micro:bit and building tools with it, students develop skills like Design Thinking, prototyping, coding, experience working with materials and electronics, using hardware and collaboration
Why Edison Robot?
Robotshop.com in a related article put it on the top 5 robots of 2017.
https: //www.robotshop.com/community/blog/show
After thorough research, we chose to embed to our courses educational activities and exercises with EDISON ROBOT. The main reason we chose this particular robot is its astonishing value-for-money.
Edison Robot is very economical with too many features – more than anyone can expect.
It can be programmed with various programming languages, making it ideal for a wide range of ages.
The combination of Coyotelearner STEM Academys' educational resources with Edison Robot offers a wonderful solution for schools and students at very affordable prices.
It is very important to note that Edison Robot offers one of the largest operating guarantees of the market. This fact makes this solution even more interesting.
CoyoteLearner STEM academy's educational resources can be purchased and then used by:
–The students themselves. They may, depending on their age, need the help of their parents. The learning process can be self-paced and personalized. In this way students define their own learning path without the pressure and competition they often encounter in a classroom.
The Coyotelearner STEM Academy's educational platform offers support system with tickets, which students may address in order to solve any query they may have about the content of the courses.
–Instructors. An instructor can use these sources within a classroom, for example by using a projector, in order to improve the educational services offered to his or her students.
–Schools. The school edition of courses is offered for virtual classes of 10, 20 or 50 students or schools may choose the number of students they wish to manage. More specifically, the school, can ask for a class of e.g. 13 students, gets access to the online course for 13 different pupils, in addition to the instructor's license. The instructors use educational resources within the classroom (there is a teacher book that suggests how to do this) but please note that students have to have access to the educational material from home.
The best educational programs on the planet offer learning materials to their students for use at home (books, notes, etc.). In the CoyoteLearner STEM Academy's educational programs, the equivalent to the student books is the access to the platform. Student access to the platform is considered very important by Coyotelearner's scientific educational team, in order for the students to achieve the educational goals of the courses.
Please keep in mind that schools may set each courses' section date availability according to their curriculum and programming.